Home
>
Press-centre
>
News
> The reconstruction of another section of "Aktobe - Martuk – border of Russian Federation (to Orenburg)" road km 0-102 in the Aktobe region in the framework of the "Western Europe - Western China" International transit corridor project has been completed
News

Printer-friendly version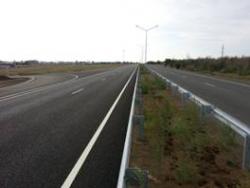 10/07/2013
The reconstruction of another section of "Aktobe - Martuk – border of Russian Federation (to Orenburg)" road km 0-102 in the Aktobe region in the framework of the "Western Europe - Western China" International transit corridor project has been completed
358 km road of the named project in Aktobe region has been reconstructed. The first section of the transit corridor with the length of 215 km was put into operation in October 2011 in Irgiz raion of Aktobe region. As of today the reconstruction of another section of "Aktobe - Martuk – border of Russia (to Orenburg)" 102 km of "Western Europe - Western China" transit corridor has been completed.
In 2010 "Cengiz Insaat Sanayi ve Ticaret AS" Turkish company started construction works as a General Contractor. The width of the road after reconstruction is 9 meters. Pavement structure has been reinforced, designed for 13 tonnes per axle. Overall 14 new bridges with a total length of 891 meters have been constructed. At the section of Kuraily village to Aktobe and Sarzhansay village the lighting has been installed, the bridge across the river Ilek and 2 overpasses through the railway have been constructed.
The design has undergone several changes during construction. One of them is the construction of a new bridge over the river Ilek in the area of Martuk village. Its length is 289 meters.
In December, the residents and visitors of Aktobe region will be able to use the new highway "Northern Bypass of Aktobe", which will allow transit vehicles without driving to the regional center to go in the direction of Astana, Almaty and Russia. And it will be the completion of works on the reconstruction of roads with the length of 358 km of the "Western Europe - Western China" International transit corridor in the Aktobe region.
Reference: The length of the international transport corridor route "St. Petersburg - Moscow - Nizhniy Novgorod - Kazan - Almaty - Khorgos - Urumqi - Lanzhou - Chzhenchou - Lianyungang is 8,445 km, including the length through the territory of Russia - 2233 km, Kazakhstan - 2,787 km , China - 3425 km . Kazakhstan section passes through five regions: Aktobe, Kyzylorda, South Kazakhstan, Zhambyl and Almaty with a population of 4.6 million people.
"KazAvtoZhol» JSC web site: www.kazautozhol.kz