Articles and interview

Printer-friendly version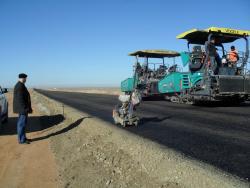 11/28/2010
Interview with Shilnikov V., Deputy Project Manager, Technical Director of "Kazdorproject" LLP
Interview with Shilnikov V.,
Deputy Project Manager,
Technical Director of "Kazdorproject" LLP
November, 2010
One of the conditions, norms and requirements for organizing the management activity of Subcontractors is establishment of relevant living conditions, organizing the high quality catering for people who work at the sites. That topic was raised several times in printed and electronic broadcast of mass media.
Vladimir Shilnikov, Deputy Project Manager of "Kazdorproject" LLP, was interviewed about all these, and also other matters during the visits of the sites.
Vladimir Yuriyevich, did the situation, described by the journalists, take place? To what extent were machine operators right in their claims themselves?
I cannot agree with the journalists when they write about the complete absence of relevant living conditions. Perhaps, there are some drawbacks in it. Even if there are some of them, they are not to such extent that it is impossible to live. I do not think that it is contemptibly for workers to have lunch far away from the communities at the sites. Why not to have lunch in the open air, besides well-prepared dishes were delivered hot in vacuum flasks? It was convenient. They did not spare time. Till date, all people, who work at the sites, have been taken to the canteen near the field camp. And what do we have? We have the following. People have worked for four hours since morning. It takes one hour for collecting workers and their delivery for lunch, one more hour they need for lunch itself. Then they need one more hour of precious time to deliver them to the sites. Overall, lunch time takes three hours. And yet, it is only ten-fifteen kilometers from the field camp. And what shall we have, when we are away for thirty-forty kilometers? It is a main problem. I hope that this problem will be solved.
As we were convinced, having left many kilometers behind us, the existing road crosses the villages. And what about the new one, will it also pass though them?
First, the existing road does not conform to the parameters, which the new one should have. Second, aiming at the safety provision of the villagers and domestic animals movement, as well as for the environment stability, by-passes for all these villages and towns, located along the route, were developed and approved. It was a great job, not simply taking to drawing the by-pass, i.e. a number of expertises and resolutions of relevant bodies and agencies, calculations of economical benefits, etc.
For example, in one of the publications, you gave me to read, they write, that we live in cowhouse. Hasn't this cowhouse preserved its previous status? Isn't it bad that the cowhouse has been reconstructed, repaired, and it has all relevant living conditions?
How do you think, what is the essence of all these dissatisfactions then? What has it been caused by? There should be any grounds. There is no smoke without a fire, you know.
I will explain. As it turned out during examinations, the Subcontractor, who was responsible for reconstruction and restoration of the premises for residential ones, could not manage it and left a large volume of works non-executed. Consequently, the Employer, in this case it was "Akkord-Okan" company stopped payment for executed volume of repair works.
In one of the broadcasts of "Kazakhstan" TV Channel thee was also a subject, where they told about dissatisfactions of the road builders, working also in JV "Akkord-Okan". It is known that till date its leaders have been replaced in Kazakhstan. Probably, it has been made in the interests of the matter, hasn't it?
First, I would like to tell you that Ministry of Transport and Communications, i..e. Employer, has strict requirements as for builders, as for all people, who works at present for implementation of this large project. And it is right.
Yes, the staff of the company has been changed. Those people, who did not pay proper attention and were not responsible for their obligations, were simply withdrawn from the Project. It was also the insistence of the Employer and Engineer's Service. And some of them were withdrawn by the Contractor himself. Possibly, some of them did not understand the policy of the project completely, some of them could not focus in the situation, and some of them had an obstacle like a language barrier. Certainly, it affects on you that you do not know the language, you are not familiar with mental abilities of the local people, ignorance of internal guidance and procedures, and many other things. Thus, serious selection of the staff has been made in management of the companies "Akkord-Okan" and "Impresa".
How do the constructers endure complicated climatic conditions: high temperature regime, high speed of the wind, etc.? How, in case of necessity, has the first medical aid implemented? How has this problem solved by the Contractors?
I think, the road builders got used to it. They spend nearly 80%, and even 100% of their working time in the open air. During those days, when the temperature increased above 35-40 degrees, as it is accepted, the regime of work has been changed, i.e. they stopped their work for the period since 1 p.m. till 4 p.m., continuing it till late at night.
There is a doctor at every site, who does a follow-up examination after the state of the workers' health. He has called for in case of emergency to any place, Each Contractor or Subcontractor solves this problem in his own way. I mean, some Contractors have their own medical staff, others sign agreements with doctors or medical assistants of the nearby towns and villages. They also provide with examination, hospitalization of those, who require medical assistance on account of the funds of the Main Contractor or Subcontractor.
Is the alcohol availability in the blood of the drivers of the road equipment and large trucks controlled?
This procedure is an obligatory one.
How many quarries are there at the sites, where control and supervision have been made by your company – "Kazdorproject" LLP?
Overall they 10.
As far as know, first, from the start of organizational and then construction works, there were some problems with them. Most of them appeared to be private property.
You see, there is such procedure as allotment of lands, other natural resources. And it requires time, as there should be a number of endorsements. First of all, we should prove that the required material is available there in all the quantity. In short, we should make the project for subsoil use, approve it.
And problems with settling of this matter have been occurred with those people, who are not familiar with it and sis not encounter them before. And those, who knew, where to start this procedure from, they could manage it. I would like to note that a large support was rendered by the Employer himself in solving that problem.
How many laboratories have been serviced by your sites? What is the quality of their services and how their research compile with the present norms and standards?
Our sites serve seven laboratories. Four of them are permanent, stationary. They belong to the Contractors. In case of complicated tests we should use the services of other laboratories.
Thank you.