Articles and interview

Printer-friendly version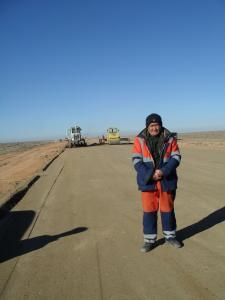 11/30/2010
Machine operators of "Dorstroi" LLP tell about progress of road works at the sites of JSC "Salini Costruttori S.p.A."
From the meeting and conversations
held for Lot 5 of JSC "Salini Costruttori S.p.A."
November20, 2010
Aldambergen Tynymbetov,
roadmaster,
"Dorstroi" LLP
Tell a few words about yourself, if you can. What works do you execute at the site?
I work as a road master at the site. My common experience as the road builder is 37 years. I worked in a large project "Omsk – Mai – Kapchagai" before. I work for this project of international meaning in accordance with my specialty. The amount of my salary suits me all right.
Young people work under your direction. How do they manage their work?
They do their best. A great deal depends on how the subbase will be laid. Not only the overall quality of the road will depend on it, but also if it will be easy or, on the contrary, there will be large problems in their further work. Therefore, one has to watch especially those, who executes this work, and lay strict claims for them. Only those, who have large experience, operate this equipment. There is no idle road equipment, everything is involved. There is sufficient number of specialists there.
Here, at the moment, as we can watch with you, the rolled road, for some reason, is being dismantling, broken. Is it connected with the committed defect?
Yes, there is such sort of thing. Exactly, a small defect has been discovered in this place, in the subbase, therefore, cutting of it is being made. Then it will be rolled again. Today we use all the available opportunities, first, weather conditions, which allow performing arrangement of asphalt concrete.
You have a very large experience in highway branch. Perhaps, you used to deal with various technologies. It was of one type in the 70s, somewhat another in 90s. What can you tell about modern, the latest technology?
You took notice right. There are differences in them, and very large at that. First, it is appropriate to mention special equipment, which we operate today. Operating it or working on it, we actually do not have losses of the building materials, their overrun.
Thank you.
Olzhas Suleimenov,
machine operator, "Dorstroi" LLP
How long do you work at this road equipment?
This equipment I have been operating for three years.
In what large projects for road construction did you use to work before? Where did you operate that equipment first and have theoretical training?
I used to work for the road construction "Kyzylorda – Zhezkazgan in 2003. There are many those people here, who constructed that road. Also, we built roads within Kyzylorda city. I used to work at the road construction of inter-district communication. But in the project of international meaning I take part for the first time. There are no special backlogs here. The work has been performed under the time schedule. Many young people work in this project.
What are the conditions, provided for working people at the sites? Do they suit you?
Entirely. Salary has been paid on-time. There were no facts on its delay. The food has been provided as it ought to be.
Where do you live, how is the catering provided, right at the site or you are taken to the canteen?
There, where we live, in the camp.
As an experienced specialist, do you train young people, who arrive in your team? Do you share your experience with them? Do you accept the part of instructor for yourself?
Certainly. The youth is our future. We require our own specialists in all the branches.
Thanks.