Articles and interview

Printer-friendly version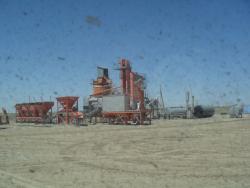 12/07/2010
Interview "On bitumen plant work" (Lot 9), Kyzylorda Region, with A. Tursumbayev (foreman of the plant)
Reference: As per the status for December 6, 2010 , 16 asphalt concrete plants have been involved on the territory of Kyzylorda Oblast for the construction of transit corridor "Western Europe – Western China". Putting into operation of 14 out of them has been connected with the commencement of construction works. As the specialists say, that was the demand. Erection of two more plants has been started. The representatives of the plants on asphalt concrete mix production tell about their work.
What is the capacity of the plant and how many working places have been provided for local population in them?
The plant started its work in April of current year and operates regularly. We produce bitumen of two brands: 60 х 90 и 90 х130. The capacity of the plant is 500 tons per day.
The number of the working staff accounts for thirty people at the moment. The work has been organized in four shifts.
Where has the raw material been supplied from?
We buy Russian raw materials, the plant of Ufa city is our supplier. We have bitumen storehouse for the storage of the tar. Six available pits, each of them meant for two thousand tons, overall contain twelve thousand tons of the product.
Does the capacity of the plant allow satisfying the demand for your product?
At present, we produce bitumen as much as the volume of order has been received from the road constructors. That is, we work for the order. The plant provides the clients' demand completely. The only problem is pricing.
And what does it consist in?
Pavlodar oil-processing plant is one of the manufacturers of the tar. However, the cost of its product is high. The tar from Ufa city is somewhat cheaper. Therefore we had to transport it from Russia, i.e. from a farther distance.