Articles and interview

Printer-friendly version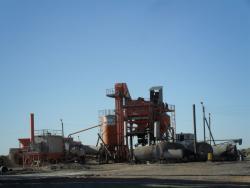 12/06/2010
Interview "About the work of asphalt concrete plant" (Lot 10) Nogai I.M., Director of ACP
- Maybe we will start from when was the plant put into operation, what is the capacity of the plant and how does its product satisfy the demands?
- The plant is of Ukraine production, it was put into operation on September 17 of the current year. The capacity of the plant is 135-150 tons per hour.
- Where has the raw material been supplied from?
- We deliver crushed stone from "Kyran" LLP, bitumen from Ufa city.
- What is the number of workers, engaged at this plant?
- Overall 12 people work there, including six bitumen workers out of local population. As you know, everything is mechanized and automated, therefore no need to use more working hands. Operators are the invited ones from other regions of our republic, mainly from Astana city and Shchuchinsk town of Akmola oblast. They are qualified, experienced specialists. The plant has been working from the date of putting into operation without interruption.
- And how do the consumers evaluate the quality of the product of your plant??
- We, i.e. "Kazsevavtodor" LLP, have our own laboratory in Shieli settlement, where the output undergoes the examination for compliance with standards and requirements. Simultaneously, Engineer's Service conducts supervision in accordance with their part.
- Winter is coming, the works on asphalt arrangement will be stopped, and it means that the work of your plant will be stopped too. What will the operators and other workers of the plant do during this period?
- They will be busy with technical maintenance, compiling of defect list, orders for the required spare parts. Then, till the commencement of works in the following season, the operators will be on vacation.
- When will the season of the orders for your product start?
- Certainly, it will depend on the weather conditions. I believe that we will start asphalt concrete arrangement to the end of March. Then we will start our work too.
- Thank you.