News

Printer-friendly version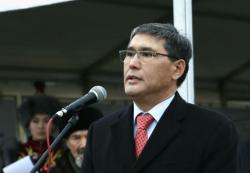 11/08/2017
RECONSTRUCTION OF AKTOBE – ATYRAU ROAD STARTED
Today Akim of Aktobe oblast Berdibek Saparbaev and Chairman of the Committee for Roads of the Ministry for Investments and Development of the Republic of Kazakhstan Mereke Pshembaev officially launched the reconstruction works on the Aktobe-Atyrau road.
The ceremony of opening has been attended by the heads of the contracting organizations, namely Todini Costruzioni Generali S.p.A JSC (Italy), SPIK Accord (Azerbaijan), Tasyapi Insaat (Turkey), Ant Insaat (Turkey), International Engineers represented by the company Dongsung (Korea) which will work as construction supervisor, and representatives of "NC "KazAvtoZhol" JSC as well.
Under the State Program and the Western Europe – Western China Road Project the road sections with the total length 629 km have been constructed in Aktobe oblast. To date, Aktobe-Atyrau road section with the total length of 500 km is still to be reconstructed. Therefore, reconstruction of this section has been included in Nurly Zhol Program which will ensure the connection from Aktobe to Atyrau and Mangistau with exit to Astrakhan in the Russian Federation and countries of the Central Asia and the Persian Gulf as well.
As a result of this reconstruction, the travel time on the road will be significantly reduced and about 2,000 people will get jobs where 90% of them are local population.
For reference:
The reconstruction of the Aktobe-Atyrau sections will be financed from the loans provided by the International Financial Institutions, such as the Asian Development Bank and the Islamic Development Bank.
455 km of Aktobe-Atyrau road are subject to reconstruction, where:
- For Aktobe-Kandyagash road section of 156 km long the tender procedures are being carried out as well as the $215.0 million Loan Agreement is being signed with the Islamic Development Bank;
- For Kandyagash-Makat road section the $240.3 million Loan Agreement with the Asian Development Bank has been signed and ratified, the contractors have been identified and the construction contracts concluded with them for 7 sections with a total length of 299 km.