Home
>
Press-centre
>
News
> KAZAUTODOR-KAZTRAFFIC – 2017 XIV International Specialized Exhibition Held in Astana
News

Printer-friendly version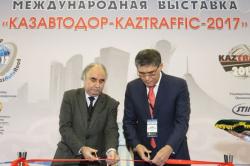 12/04/2017
KAZAUTODOR-KAZTRAFFIC – 2017 XIV International Specialized Exhibition Held in Astana
The 14th International Specialized Exhibition "Kazautodor-KazTraffic" was held in Korme Exhibition Center on November 29-30. The exhibition has been devoted to the latest achievements in the field of road construction and is one of the major exhibitions on this subject in Central Asia.
The event has been organized by the Ministry for Investments and Development of the Republic of Kazakhstan and Stinex LLP.
The exhibition has been opened by Mereke Pshembaev, the Chairman of the Committee for Roads of the Ministry for Investments and Development of the Republic of Kazakhstan. In his welcoming speech, he noted that every year at this event leading companies, enterprises and organizations from Kazakhstan, Russia, Belarus, Europe and Asia, the USA, Germany, France, and other countries exhibit the most effective contemporary materials, technologies and equipment, scientific developments, the results of work done and projects implemented in road construction. The Organizing Committee of exhibition provided the participants opportunity to demonstrate products, hold meetings, negotiations, conferences and seminars.
More than 100 leading companies took part in the exhibition this year, among them research institutes, big companies of Russia, Ukraine, Belarus, the USA, Germany, France, etc. working in road construction and maintenance, production of the relevant machinery and equipment, and road safety.
The participants presented their projects and developments in the field of road facilities, equipment and materials for construction, repair and maintenance of roads.
Within the framework of the event, a scientific and practical conference on the subject of "Construction and operation of cement concrete roads" has been held where the leading scientists, specialists, experts from Russia, Canada, Japan, Finland, Sweden and China took part.
In addition, the sections have been organized at the conference, where the participants discussed the introduction of new technologies in road construction, environment issues, quality control in construction, road safety, etc. Also, the main topics for discussions have also been the improvement of the Customs Union technical base and application of technical innovations in road sector as well.
Such exhibitions contribute to the development of business and scientific and technical cooperation in the field of road industry.
The results of organization and preparation of the exhibition "Kazavtodor-Kaztraffic" allow presenting to scientists, specialists, and business the up-to-date products and scientific developments that will be in demand in the market of Kazakhstan.