Home
>
Press-centre
>
News
> RECONSTRUCTION OF "KURTY – BURYLBAITAL" AND "UZYNAGASH – OTAR" ROAD SECTIONS OF CENTER – SOUTH CORRIDOR HAS BEEN COMMENCED
News

Printer-friendly version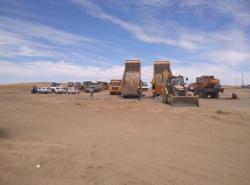 08/16/2018
RECONSTRUCTION OF "KURTY – BURYLBAITAL" AND "UZYNAGASH – OTAR" ROAD SECTIONS OF CENTER – SOUTH CORRIDOR HAS BEEN COMMENCED
Reconstruction of "Kurty-Burylbaital" and "Uzynagash-Otar" road sections is carried out from funds of the World Bank and co-financing from the republican budget.
Kurty-Burylbaital section, 85 km long (I category with 4-lane traffic), is part of the "Center-South" corridor and is part of "Astana-Karaganda-Balkhash-Kurty-Kapshagai-Almaty" republican road. "Kurty-Burylbaital" project is divided into two sections: 1. km 2295-2335 (40 km long) and 2. km 2335-2380 (45 km long). The contractor on both sections is the construction and industrial investment corporation "Akkord". Construction Supervision Consultant is "IRD Engineering S.r.l" company.
96 km long Uzynagash-Otar road section (I category with 4 lanes traffic) is part of "Almaty-Kordai-Blagoveshchenka-Merke-Tashkent-Termez" republican road. "Uzynagash-Otar" project consists of three lots: km 63-101, km 101-143 and km 143-159. Construction Supervision Consultant is "Dongsung Engineering" company in the joint venture with "Dasan Consultants". Contractor at the first and third lots is JV "Kazakhdorstroy/ABK-Avtodor-NS". On the second lot, retender will be held to select the Contractor.
The project management consultant is KazDorNII JSC in association with Sapa SZ LLP and Kazi Hasan Associates (KHA). Currently, on lots 1 and 3 of "Uzynagash-Otar" road the Contractor is mobilizing personnel and equipment, planning the location of the base, office and laboratory of the Contractor.
On two lots of "Kurty - Burylbaital" road the personnel in the number of 264 people and 214 units of equipment were mobilized. The contractor is currently working on road clearance and topsoil removal, back filling of subgrade on the broadenings and preparing the reinforced concrete products for culverts, cattle passes, as well as installation work for concrete mixing plant and asphalt concrete plant, and crushing screening plant is mounted 100% on base site Bozoy village PK130 + 00.
Completion of works under these sections in planned for 2021.