Home
>
Press-centre
>
News
> 24 projects with coverage of reconstruction of 4.6 thous. km of roads are being implemented in the framework of "nurly zhol" state program
News

Printer-friendly version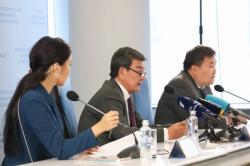 10/04/2018
24 projects with coverage of reconstruction of 4.6 thous. km of roads are being implemented in the framework of "nurly zhol" state program
Today, a briefing was held at the Central Communications Service site with the participation of representatives from the Ministry of Investment and Development of Kazakhstan and NC Kazavtozol. In the current year, within the framework of the "Nurly Zhol" state program, 24 road projects are being implemented with reconstruction coverage of 4.6 thousand km, of which 22 are previously approved projects.
Currently, construction works are being carried out on the projects of Zhetybai-Zhanaozen, Taldykorgan-Ust-Kamenogorsk, Kandygash-Makat, Burylbaital-Kurty), Kalbatau-Maykapshagai, Merke-Burylbaital and South-West bypass of Astana.
"We started the construction of a camp and mobilization of equipment at the Uzynagash-Otar section and by the end of the year we plan to begin the reconstruction of the Balkhash-Burybaital section. According to the Aktobe-Makat project in the Aktobe-Kandyagash section with the length of 159 km and Atyrau-Astrakhan road with the length of 277 km, a decision has now been made to change the source of financing from IDB to ADB and EBRD. Taking into account these circumstances, at the expense of the Republican Budget, JSC "NC "KazAvtoZhol" commenced works on the implementation of the reconstruction of 120 km in sections of Aktobe-Kandygash (60 km), Atyrau-Astrakhan (60 km)" said the Deputy Chairman of the Committee for Roads Mr. Amangeldy Bekov.
Work has also commenced on the construction of the Big Almaty Ring Road (BAKAD) on the principles of PPP with completion in 2021. In general, 100 thousand people are involved in the implementation of Nurly Zhol projects, taking into account the local road network. More than 95% of Kazakhstani materials are used in road construction.
In total for the year it is planned to open traffic in 528 km.
Special attention is paid to the development of road service facilities.
Active work is underway to bring the existing road service facilities and the quality of the services they provide into proper condition.
"Today, according to the results of the inventory, there are 1,859 units of facilities on the republican network, of which following the results of the first half of the current year 42% (780 units) of facilities conforms to the National standard.
By the end of the year, it is planned to increase the total number of national standards to 850 units or 45% of the total number of road service facilities" said Amangeldy Bekov.
In addition, along with the improvement of existing facilities, work is underway on the construction of new facilities with a full range of services and the installation of modular KazWay pavilions according to the requirements of the National Standard. Work is being carried out to enter information about service facilities into a digital IRU Transpark map, Google Maps, Yandex Maps.