Mass media about the project

Printer-friendly version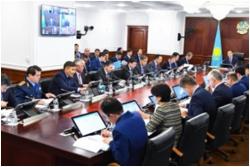 11/20/2018
"Nurly zhol" state program: 7.5 thous. km road reconstructed
The meeting of the Government of the Republic of Kazakhstan chaired by Prime Minister Bakytzhan Sagintayev reviewed the implementation of the Nurly Zhol State Program for Infrastructure Development for 2015–2019.
According to the Ministry of National Economy, about 792 billion tenge is provided for.the implementation of the Nurly Zhol state program in 2018 at the expense of all sources.
A report on the work being done to improve the quality of highways was made by E. Kizatov, the chairman of the board of "KazAvtoZhol" National Company" JSC. Since the implementation of the Nurly Zhol state program, 807 billion tenge has been allocated.
"At the expense of the allocated funds, 1004 km were put into operation. This year, 19 projects are being implemented (3,471 km), of which 13 projects are funded from the republican budget, 6 projects are in the framework of borrowed funds. By the end of this year, it is planned to commission 426 km and open traffic for another 453 km. Thus, we will ensure the implementation of all planned indicators for 2018 in full, said E. Kizatov.
Throughout the Center-South corridor, Contractors have been identified which mobilize equipment during the winter period, procure main materials and formalize quarries. Full-scale construction work will be launched next year. Along the "Center-East" and "Center-North" corridors, all work will be completed next year.
Kazavtozhol, together with the regional Akimats, continues the work on bringing the roadside service facilities in accordance with the National Standard.
So, today, out of 1,859 service facilities, 804 facilities or 42% have been brought into compliance with the National Standard. A joint audit of all service facilities was carried out, and detailed Regional action plans for 2019 were approved. The main resources are directed to the development of international transit corridors, to the improvement of border infrastructure and the development of tourist routes. By the end of 2020, work in this direction will be completed in full.