Home
>
Press-centre
>
News
> In 2019 it is planned to cover by construction and reconstruction 4.4 thousand km of Republican road
News

Printer-friendly version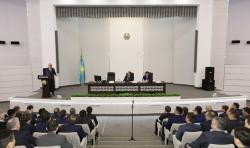 02/21/2019
In 2019 it is planned to cover by construction and reconstruction 4.4 thousand km of Republican road
Today in Astana there was a board meeting of the Committee of Roads Ministry of Industry and Infrastructural Development of the Republic of Kazakhstan under the results of activities for 2018 and work plans for 2019.
During the meeting, the board reviewed the implementation of "Nurly Zhol" state program, the main tasks of the road sector for 2019, the construction quality issues, repair and maintenance of the republican and local road network.
First Deputy Prime Minister of Kazakhstan Askar Mamin, Minister of Industry and Infrastructural Development of Kazakhstan Zhenis Kassymbek, Kazavtozhol NC JSC, Kazakhavtodor LLP, KazDorNII and representatives of Contractors took part in the Committee's board meeting.
As the first vice-minister Roman Sklyar noted, this year at the expense of the allocated funds 4.4 thousand km of republican roads will be covered by construction and reconstruction, it is planned to open 654 km of traffic, to repair 1,600 km.
In 2019, at the expense of Governmental loan the Committee of Roads will work on 553 km of roads under 4 projects: "Kandyagash-Makat" (299 km), "Zhetybai-Zhanaozen" (73 km), "Kurty-Burybaital" (85 km) , "Uzynagash-Otar" on 2 sections (54 km).
"Under the Center-East corridor (905 km), 643 km was put into operation from the start of implementation, this year construction work will cover 262 km. Under the Center-South corridor (1,292 km), from the beginning of the implementation, 275 km were put into operation in Almaty-Kapshagai and Astana-Karaganda sections. This year, the rest of the corridor will be fully covered by construction works (1,017 km)" said Roman Sklyar.
On Aktobe-Atyrau-Astrakhan highway, at the expense of the republican budget, work will be continued on 120 km of Atyrau-Astrakhan and Kandyagash-Makat sections. To date, preparatory work has commenced on these sections, mobilization of equipment and personnel is being carried out.
Chairman of the Board of BI RoadCostructions LLP Bauyrzhan Issabayev, General Director of Citic LLP Vu Xiaodong made a speech on the problematic issues of the road sector during the board meeting. As well the President of KAZDORNII JSC Bagdat Teltayev spoke about new technologies in the field of construction and reconstruction of roads.
Following the meeting, a number of specific instructions were defined.