Mass media about the project

Printer-friendly version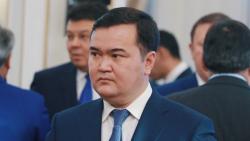 01/30/2019
"The road is recognized when laid to the house"
The President of Kazakhstan, Nursultan Nazarbayev, instructed to develop not only republican roads. He stated this during the expanded government meeting, Tengrinews.kz reports.
"We need to think right away, continue the basic roads, that is, intraregional and district roads. This is the most important thing. The road is recognized when it comes to the house. the President instructed, referring to the Minister of Industry and Infrastructure Development Zhenis Kasыymbek.
Earlier, the Minister reported on the construction of republican roads. "Within the framework of the Nurly Zhol program, large-scale implementation of road projects continues. Over the years of independence, about 12 thousand kilometers of republican roads were constructed and reconstructed. Last year, one and a half thousand kilometers were repaired and 528 kilometers of republican roads were reconstructed," he said.
A big meeting with the participation of the Head of State takes place in the Government House in Astana. The meeting is attended by speakers of the Senate and Mazhilis, the Prime Minister, the State Secretary, the head of the Presidential Administration, members of the Government, Akims of cities and regions, and heads of central government agencies.