Mass media about the project

Printer-friendly version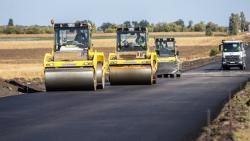 02/21/2019
1,7 thousand km of republican roads will be repaired this year
Traffic on 650 km of roads will be opened in Kazakhstan by the end of this year.
In 2019, 4.4 thousand km of republican roads will be covered by reconstruction. This was announced by First Deputy Minister of Industry and Infrastructure Development Roman Sklyar, BNews.kz correspondent reports.
"At the end of the year, it is planned to open traffic for 654 km. The repair will cover 1.7 thousand km of republican roads, including capital repair - 518 km, average repairs - 1,190 km of roads. The coverage of the local network will be 4 thousand km. With respect for the trend of last year, it is planned to bring local roads to a good and satisfactory condition by 85%, up to about 60 thousand km" said Roman Sklyar during an extended meeting of the Ministry.
At the same time, the first vice-minister asked the akimats to responsibly approach the co-financing of projects in accordance with parity 50 to 50 percent.