Mass media about the project

Printer-friendly version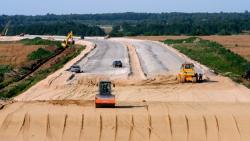 04/18/2019
According to "Nurly Zhol" program, 4.5 thousand km of republican roads will be repaired
4467 km of roads of republican significance are being reconstructed within the framework of the "Nurly Zhol" program. The deputy chairman of the board of "NC "KazAvtoZhol" JSC Arman Zhusupov announced this at a press conference in the CCS (Central Communication Service), BNews.kz reports.
"This year, the reconstruction, repair and construction of roads of republican significance covered 4,467 km," said Arman Zhusupov, noting that in 2019 it is planned to commission 533 km of roads, namely: 161 km of Astana-Pavlodar section; 97 km of Pavlodar-Kalabatau section, including the bypass of Kabaltau; 85 km of Beineu – Akzhigit section; 80 km of Shchuchinsk - Zerenda section; 61 km of Temirtau - Karagandy section, including Karaganda bypass; 29 km of Petropavlovsk – Kurgan section; 20 km of Taskesken - Bakhty section.
"In addition to ongoing projects, in this year at the expense of attracted nongovernmental loans, it is planned to start implementing four new projects with a length of 762 km. These are the reconstruction facilities: Karaganda - Balkhash, Atyrau - Astrakhan, Aktobe - Kandyagash with transition to the technical category I, Kurty - Kapshagai", - added Zhusupov.
According to him, as per Contract of the state task, in this year it is also planned to cover 1,640 km by large-scale repair work on roads of republican significance, of which, in order to restore the operational characteristics of the roads, it is planned to carry out a major overhaul covering 451 km.
"At the same time, in 2019, 68 km of roads are planned to be commissioned, of which 35 km is Kokpek-Kegen road-Kolsai lake, 23 km-Kokpek-Kegen-Tyup, 3 km-Akchatau-Agadyr-Ortau, 2 km-Yekaterinburg- Almaty, 5 km - Kyzylorda - Pavlodar ", - he added.