News

Printer-friendly version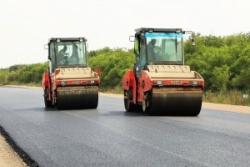 08/13/2019
Work Progress on Kalbatau-Maikapshagai Road
The source of photograph: NC KazAutoZhol JSC
415 km Kalbatau-Maikapshagai Road Section will be reconstructed from the Category III to Category II with 2-lane carriageway widened up to 9m. The work program also includes the constructionof 242 culverts, 47 bridges, 9 transport interchanges and the installation of a heating point. Construction and installation works are carried out by the Construction Consortium: SinSin/KazGerStroy.
To date, the road workers have removed top soil along the entire site, deconstructed the existing pavement, the earthworks and construction of bypasses are still being carried out. This year 9 km of the road at Kalbatau bypass reconstructed up to the Category II with 2 lanes is planned to be put into operation.
Now more than 670 people are involved in the works, about 380 units of equipment have been mobilized. The reconstruction of the Kalbatau-Maikapshagai Road is planned for 5 years and will be completed in 2022.