Home
>
Press-centre
>
News
> Kazakhstan's Prime Minister Askar Mamin Inspected Major Projects Implementation Status
News

Printer-friendly version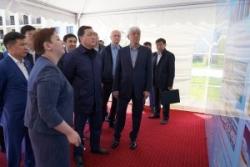 05/24/2019
Kazakhstan's Prime Minister Askar Mamin Inspected Major Projects Implementation Status
Photo: http://kazautozhol.kz
The Prime Minister of Kazakhstan Askar Mamin has made a field visit to East Kazakhstan, Almaty and Karaganda regions, where he checked the implementation status of the instructions issued by the Head of the State Kassym-Zhomart Tokayev during visits to the country's regions. Attention is focused on the implementation of the Nurly Zhol Government Program initiated by the First President of the Republic of Kazakhstan, Elbasy Nursultan Nazarbayev, in order to develop a sustainable transport infrastructure in the country.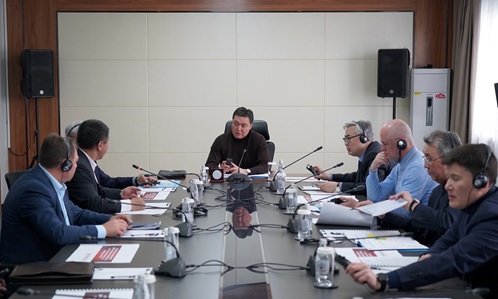 In the East Kazakhstan region Askar Mamin checked implementation status of the Ust-Kamenogorsk-Taldykorgan Road Project. This year 265 km of roads are planned to be open for traffic. Totally, the 763 km road will be open for traffic in 2020. At the same time, reconstruction of Kalbatau-Maikapshagai road is carried out, where 135 km of roads will be completed by the end of this year.
In Almaty region, the Head of Government of the Republic of Kazakhstan was reported about reconstruction of the Eastern 355 km section of Ust-Kamenogorsk-Taldykorgan road, and the construction of the 184 km Usharal-Dostyk road project.
In Karaganda region, the works on Karaganda-Balkhash road section have been inspected. Under this project, 187 km of the road will be opened for traffic this year, and the commissioning of the entire road is planned for 2020. Under Karaganda-Temirtau and Bypass of Karaganda city projects, the work will be completed by the end of this year with the commissioning of 61 km of roads.
Prime Minister Askar Mamin noted the high level of work-in-process in the construction of the facilities on road sections in East Kazakhstan region and instructed to increase the rate of construction works in Almaty and Karaganda regions. The relevant adjustments to construction periods are required to expedite mobilization and the work progress. The Head of Government emphasized the importance of involving local population in implementation of the projects, and maintaining the required salary payment policy and increasing the share of Kazakhstani content.
"The infrastructure shall work. The task for Ust-Kamenogorsk-Taldykorgan and Karaganda-Almaty projects is to open the road in 2020. Quality issues should be a top priority, - A. Mamin said. – The activities for tourist potential development shall be continued on Alakol River. About 2 million tourists will visit the eastern and southern coasts this year".