Mass media about the project

Printer-friendly version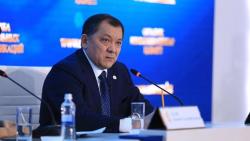 11/04/2019
NURLAN NOGAEV: CONSTRUCTION OF ATYRAU-ASTRAKHAN ROAD TO BE COMPLETED IN 2022
Source of photograph: informburo.kz
This was announced today at a briefing in the Central Communications Service by akim of Atyrau oblast Nurlan Nogaev.
- Atyrau - Astrakhan road is constructed in accordance with the schedule. Its total length is 277 km; today, the works are being carried out on 60 km of the road. According to project documentation, reconstruction is to be completed in 2021, however, the works are being carried out ahead of schedule and may be completed before the completion date, the head of oblast said.
This project is being implemented under the Nurly Zhol Program in two directions. In the direction of Atyrau - Astrakhan, the works are carried out on 60 kilometers. The road with a total length of 277 kilometers will be fully commissioned in 2022. In the second direction, Atyrau-Aktobe road section, 27 kilometers have been constructed, 88 kilometers are being constructed, and the remaining 40 km road section is on the preparation stage.
In addition, road construction works are being carried out in the region to develop transport infrastructure, including construction of roads with a total length of 165 km on 216 streets in 32 villages. 4 main streets of the regional center were also widened. The Project of road widening included widening of carriageway, installation of the new lighting, bus stops, pedestrian and bicycle paths.
Next year it is planned to widen 7 streets of the regional center. In addition, 45 kilometers of the new road will be constructed.