News

Printer-friendly version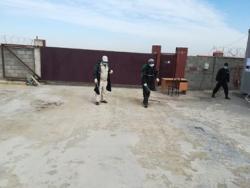 03/18/2020
Road companies tightened control in the State of Emergency
To execute an instruction of the Prime Minister of the Republic of Kazakhstan, Askar Mamin, given at a meeting of the Government Commission to ensure the state of emergency, measures have been taken in the road sector to prevent the pandemic spread.
Thus, at the sites of republican road construction and reconstruction, the requirements have been developed to comply with the sanitary and epidemiological norms and regulations including the restriction of entry and exit to the construction camps.
In addition, every company shall have medical staff and medical equipment for daily examination of the workers and employees. Each camp must have hygienic dispensers installed.
Individual action plans have also been prepared if any personnel is identified positive.
To recap, about 100,000 people work in the road sector of the country.