News

Printer-friendly version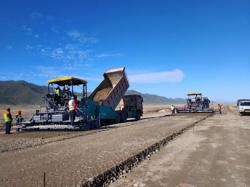 04/25/2020
Taldykorgan – Ust-Kamenogorsk Road Reconstruction Progress
The 763 km Taldykorgan - Ust-Kamenogorsk road, bypassing the villages of Koilyk in Almaty oblast and Shynkozha, Ushbik, and Ayagoz in East Kazakhstan oblast, will be completed in 2022.
CITIC Construction Co. Ltd., K-Dorstroy, and Todini Central Asia are carrying out the construction works. GC ENGINEERING and ZS Engineering carry out quality control of the works performed.
The Project provides for the reconstruction of a 32-kilometer road section starting from Taldykorgan, which after completion will be 4-laneв road of Category I, and reconstruction of a 731- kilometer road section, which will be 2-laned road of Category II. The Project also includes the construction of 6 Nos. of Bridges, 3 Nos. of Railway Overpasses, 11 Nos. of illuminated Interchanges, 276 Nos. of Culverts, rest areas, and bus shelters near villages.
To date, more than 9,970 m3 of the earthworks have been completed, 252 Nos. of Culverts and 22 Nos. of Cattle crossings, 159 km of SGM subgrade, 130 km of the subbase, 118 km of high porous coarse-grained asphalt and 93 km of coarse-grained asphalt binder. Moreover, 25 Nos. of Artificial Structures are being carried out, i.e. Overpasses, Bridges and Traffic Intersections.
Totally, 1,188 Nos. of Equipment and 2,319 Nos. of Personnel have been involved in the reconstruction of the road, out of which 106 are international personnel.