Home
>
Press-centre
>
News
> KazdorNII has developed recommendations for the use of nanomodified bitumen in road construction
News

Printer-friendly version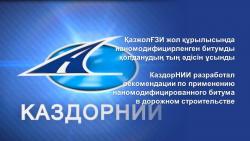 07/07/2022
KazdorNII has developed recommendations for the use of nanomodified bitumen in road construction
The Research Institute has been developing a carbon nanopowder additive for road asphalt concrete for the second year.
As part of the study, two experimental sites were built in the south and north of the republic. In Almaty on the street Tole bi (from Utegen-Batyr St. towards Sain St.) an experimental section with a length of 101 m was laid. 152.5 tons of asphalt concrete modified with nanocarbon powder were produced in October 2021 at the Asphaltobeton-1 LLP plant. At the same time, 100 m were laid in Nur-Sultan on the road section of st. 59 (from the street 150 years of Abay to the street Arykty). 110 tons of an experimental batch of asphalt concrete mixture was produced by Astana DorStroyNS LLP.
In April 2022, the research institute specialists monitored the pilot sites, which showed that the asphalt concrete pavement using nanocarbon powder is in good condition, the evenness of the pavement, compaction and water saturation comply with the requirements of SNiP 3.06.03-85, PR RK 218-35-2016 and ST RK 1225-2019.
Based on the results obtained, KazdorNII developed the first version of the draft "Recommendations for the use of carbon nanomodified bitumen in road construction". The draft was sent to all interested state and commercial organizations for feedback, suggestions and approval.