Home
>
Press-centre
>
News
> The head of KazAvtoZhol spoke about the implementation of Aktobe-Kandyagash road project
News

Printer-friendly version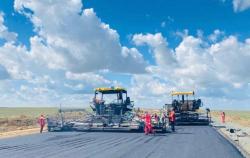 07/29/2022
The head of KazAvtoZhol spoke about the implementation of Aktobe-Kandyagash road project
As part of the road construction season, road projects are being implemented everywhere. So, for example, in Aktobe oblast, the reconstruction of Aktobe-Kandyagash road continues, which began in the spring of 2021.
"Almost every week we go to our road facilities. If last week they inspected the progress of projects in East Kazakhstan and Almaty oblasts, then on this week they came to Aktobe oblast. I would like to talk about how the reconstruction of Aktobe-Kandyagash road of republican significance is progressing.
The total length of the republican road is 89 km. The reconstruction is taking place in two sections: from the 11th to the 52nd kilometer and from the 52nd kilometer to Kandyagash. Both domestic and foreign general contractors are involved in the implementation of this project. Now the first two lanes are covered by road construction works. We plan to launch traffic on the renovated Aktobe-Kandyagash road at the end of 2022. This work will not end. After the delivery of the first two lanes, we will begin to build two more lanes. We plan to complete the full reconstruction of the road in 2023. After the reconstruction is completed, the highway will have four lanes and correspond to the I technical category," said the head of KazAvtoZhol, Meirkhat Kasymbaev.
In general, construction work covered 7,000 km of roads of republican significance this year, of which 4,000 km are being reconstructed and built. Also, 3 thousand km are covered by major and medium repairs.