News

Printer-friendly version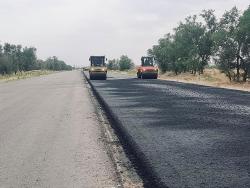 08/01/2022
"Merke-Shu-Burylbaital" road project is at the completion stage
Reconstruction of the road of republican significance with a length of 262 km "Merke-Shu-Burylbaital" in Zhambyl oblast is 85% completed. Thus, within the framework of the project, 19 bridges and overpasses, 276 culverts were built, more than 5 million m3 of subgrade were constructed.
The road consists of 4 sections, one of which was commissioned last year. In the remaining sections, traffic is carried out on a new surface and work is underway to equip the road. At "Merke-Shu" section, work continues on the installation of the remaining two lanes and approaches to three overpasses. The route bypasses settlements, which makes it safer.
The construction of the route is continued by a consortium, which consists of domestic and foreign general contractors. About 400 working personnel and 250 units of special equipment were mobilized at the sites. It is important to note that all road construction materials used in the project are of domestic production.
The project also provides for the construction of 9 equipped recreation areas and 34 car pavilions in all settlements.
After completion of the reconstruction works, "Merke-Shu" section (86 km) will correspond to the I technical category with 4 lanes, and "Shu-Burylbaital" section (176 km) will correspond to the II technical two-lane category.
Completion is scheduled for the end of 2023.