Articles and interview

Printer-friendly version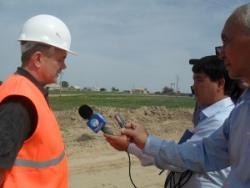 05/12/2011
Interview with A. Maslyakov
From conversation with the Deputy Supervision Engineer
"Kazdorproject" LLP –Alexander Maslyakov
for the section of JV "Azercorpu /Tepe".
April 28, 2011
- Alexander Mihajlovich, what is the total length of the section, allotted to the company "Azerkorpu/Tepe", where we are now?
- The total length of the section is 36 km. The road has four lanes, two lanes to one direction, and two in another. Builders of the section should arrange 33 culverts, 5 underpasses, 3 bridges and 4 overpasses for interchanges. Volume is very considerable.
- Some words about production facilities, formation of which, as we can see, is in full swing.
- There will be stone crushing mill with capacity of 400 tons per hour, 2 cement concrete plants with capacity of 135 cubic meter each, i.e. overall 260-270 cubic meter per hour on these production facilities.
- What is the time, required for their installation, and when they will be put in operation?
- As per the schedule, the date is the end of May. That is, till that date, we plan to start all structure of facilities. It is a stone crushing mill, two plants, I mentioned above, repair shops, offices, a hostel, a canteen. I think that contractors will meet the deadline, as today works are in progress the schedule.
- Why is this land plot for the site on a height, instead of another, chosen? What is the advantage and convenience of it? The view is open for many kilometers of the section of Azerkorpu/Tepe from here.
- First, these facilities are nearby the sites. Secondly, communications are closer to the site in 9 hectares: electric networks, a water pipe. Thirdly, the earth under the given platform initially was not for agricultural, but for industrial application. This is the choice of that land plot for the facilities.
- We observe the work of considerable quantity of transport and special equipment involved in construction of interchange. What quantity for that is planned for current year and what has been already made?
- For today it is executed 60 thousand in cubic meter on this outcome. Basically works on the given object are conducted by the contractor of joint venture "Azerkorpu/Tepe". From technics 3 dredges, 6 autodump-body trucks, an autograder are involved. I consider that the quantity of technics is quite enough.
- How many units of equipment belong to the Contractor?
- If overall 97 units of road-building machinery are involved, 71 units are the property of the Contractor.
- What quantity of the personnel is involved in civil works for this 7 Lot, where we are, including local? What specialists are the foreign personnel invited by the Contractor?
- For this Lot only 165 persons are involved, out of them local specialists are 148 people. International personnel are 17 people, they are highly skilled specialists in road construction in land surveying, laboratory, arrangement of roadbed, installation of equipment and plants.
- The production facilities are at the installation stage. How do working people get to the site? Are their supply and catering organized?
- Workers, involved in works for this site, are, basically, from nearby settlements and regional center. For their supply the Contractor rents the bus. Before completion of the construction of their own canteen, two canteens are rented in nearby settlements. So, there are no problems regarding it.
- Some words please about your Subcontractors.
- One of them is the company «Real Way» which worked earlier for the construction of highways of republican significance "Uralsk-Atyrau", "Astana-Borovoye". That is experience of the company is big. It has specialists of demanded qualifications and enough special equipment.
- What is your forecast? For a full swing of civil work, whether the contractor will have deficiency of the qualified personnel working on a road special equipment, plants, etc. What solution will be for such prospective problem? Is their instruction, i.e. preliminary training and study course provided?
- We don't expect such situation as we will always have enough machine operators. As one of the main conditions, required for Subcontractor, is availability of sufficient equipment, qualified personnel. Otherwise, they just won't be approved. Besides, the Contractor plans to involve in addition his own highly skilled personnel: specialists, machine operators and also to involve local personnel for training.
- Being one of the heads of the Engineer's Service for Construction Supervision, how do you estimate the commencement of big construction for Lot 7, where works are conducted by company "Azerkorpu/Tepe"? If you compare to them with some Contractors, working in the South Kazakhstan Oblast, the company is ahead of others for many positions.
- First, on due level organizational work has been put, as the company has a large experience in projects of the international value. For example, it was the participant of the big project, implemented on the territory of Ukraine. Its capacity is very great. Also, mobilization work has been put on due level. Though it is early to speak about an overfulfillment of the schedule of works, but at least while there are no backlogs. In Kazakhstan the joint venture "Azerkorpu-Tepe" is for the first time.
- As far as I know, the company is represented by two countries: Azerbaijan and Turkey. But as I was convinced today during meetings, there are only representatives of Azerbaijan at the sites. And where are representatives of Turkey? Or are these their internal agreements?

- Yes, it is valid so. Turkish specialists will come by the time, when everything is ready to start works for arrangement of cement concrete coating. They have a wide experience in this respect. They have experience in the European countries.
- Azerbaijan is one of the former union republics. I want to stress that for its representatives, working in this project, does not exist language barriers. You could agree, after all it also has certain value. For certain it is more difficult for representatives from the far abroad.
- Yes, you are right. During the work with administration and specialists of "Azerkorpu/Tepe" we understand each other from a half-word, i.e. we inform well about our thoughts, as well as we perceive them literally. We do not spend time for translations. It is much more difficult with the Korean or Chinese companies. Now and then it is necessary to come back to the same question because of the reason of misunderstanding of the conversation essences. Therefore, it should be admitted that there are minuses in the contacts, connected with language ignorance.
- Thanks.