Articles and interview

Printer-friendly version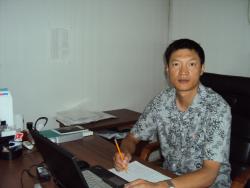 09/13/2011
Project Manager of the Company "Sinohydro Corporation Limited" (China) answers the questions of the editor of website
- Mister Wan Khuai, it is known to you, as well as to us, that there were very serious problems, more precisely frustrations in execution of road works, in the performance of the company "Sinohydro, which you represent. Replacement of the project manager has occurred because of this. What problems, to your opinion, have provoked backlogs in execution of time schedule?

- Our company is in Kazakhstan for the first time, ignorance of country-specific studies was connected with it. Evidently, it was one of the difficulties, which had been experienced by former Project Managers. During our stay in Kazakhstan we have learnt much from Kazakhstan legislation. To date we signed labour agreement with the staff. It can be stated that almost every problem matter has been settled.

- When was construction of production facilities, which we were observing today, completed? How has catering been arranged? Are machine operators satisfied with conditions, established by Contractors? Are there any complaints?
- Erection of the camp was completed in the month of July. Till its completion catering for workers was arranged at the restaurant. Today we have our own canteen. Transportation has been arranged for workers, leaving in the nearby settlements. Everybody, who needs lodging, has been provided with places at the constructed hostels. Each habitable room has been provided with conditioner. All proper sanitary-hygienical conditions have been provided: shower stalls, water closet. Conditions, established for local personnel, differ in no way from residential conditions of the Chinese Experts.

- How many working places have been provided for the local community? What is the amount of foreign specialists?
- Till date overall amount of workers at our site is 391 people. Including 50 people of international staff.

- Where are these 50 people involved? I mean – what is their profession? Are there people among them, working at the road equipment?
- They are engaged with management activity. There are surveyors, laboratory assistants, translators among them, as well as those, who work at the special equipment, for example paver and others.
- From the very beginning of road-construction works at your section, were there any road-transport accidents because of the lack of proper road signs or obstacles, connected with the works, which are executed?
- Fortunately, we did not have such cases yet. Observance of safety engineering and provision of safety at the roads are under strict control. We pay special attention for it. For this purpose presence of traffic controllers has been provided for the roads on a regular base. Moreover, our medical staff controls the state of health of the personnel measuring blood pressure, examining for alcohol in the blood. All the required road signs have been installed in both directions. We applied to the local road police requesting to carry out raid and control for violations, made by traffic. It is manifested by speeding, i.e. do not react to the installed warning signs about speed limit.
- How closely, harmoniously does the Contractor manage to work with Engineer's Service?
- There are disagreements regarding the work. I think it is normal occurrence. All the remarks, directions, claims for the quality of works, executed by constructors, we accept as prescribed. Naturally, we take measures for their elimination, because we have common aim and tasks – to construct qualitatively and timely. Any occurring problems we solve in association with each other.
- What percent out of all equipment, involved in the construction, is the property of the Contractor?
- One third part of the mobilized equipment belongs to the company "Kukdong". Only the last wagon, out of nine, has not arrived with the concrete paver yet.
- How much do the works of Subcontractors satisfy the Contractor? Or anyone of them, to your opinion, is not able to cope with the quantities taken?
- At present, 6 Subcontractors work at our site. One Subcontractor has already completed his work for relocation of power lines and 4 Subcontractors more are involved in earthworks and 1 in works for arrangement of subbase. We do not have arrears for financing before them.
We are happy that our company "Sinihydro" works for this Project on the territory of Kazakhstan. We feel the support of the Employer himself. And I am sure that Contractor will cope with the obligations undertaken. Because China and Kazakhstan have established friendly relations. And Kazakhstan, as well as China, need the road, in the construction of which we participate.
- I wish success to you!