Articles and interview

Printer-friendly version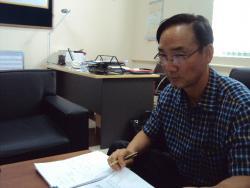 10/15/2011
Interview with Mr.Kim Dhang Dyk Project Manager of South-Korean company "Kukdong Engineering"

- Mr. Kim, it is impossible to find any publication in the website www.europe-china.kz, developed for information support of the project 'Western Europe – Western China", even the shortest one, telling about the success of the company "Kukdong Engineering" in the above project. The reasons are the lack of this success. What is the status at present, I would like to ask you about.

- First of all, I would like to tell you - welcome! Thank you for your visit. As you know, I am a new person here. I entered upon my duties of the Project Manager in the month of July of the current year. Yes, really, there were and there are some backlogs in our work. But I am sure that further our company will successfully manage with Timing Schedule. I am myself is an experienced Road Engineer. I worked for the construction of the highway in Kyrgyzstan, which was successfully completed. I have to manage the project not for the first time. Therefore, I hope that we will cope with this project. The length of our road section is 24.6 km. Including 5.2 km – with asphalt concrete pavement and 19.6 km with cement concrete pavement. At present, 5.2 km with asphalt concrete pavement is under redesign. Of course, I am very concerned about that, as because of time losses there will be possible backlogs in time schedule. New design has not been issued to us yet. Total amount of the Contract is 726 million KZT. For the current year we are planning to disburse 240 million KZT. At present 8% of overall scope of works has been executed. 480 cubic meters were planned to carry out for embankment. At present, 326 cubic meters have already been carried out. Small quantity is left, and I think we will cope with this works to the end of the year. Also, to the end of the current year we are planning to complete concrete pavement for 16 km. It happened that they could not settle the matter of pavement structure for a long time. Finalized document was submitted to us only on the 8th of September.
We are planning to start base course on the 20th of September. The equipment is available. In the end of September, i.e. tentatively in 15 days, we are planning to start works for concrete pavement. Overall 85 units of equipment and 228 people of the staff have been mobilized. Till the end of the current month 45 units of equipment more will be mobilized. Then, I think, we will cope with the task given. You should also take into account that our road section is the most complicated in this region, as it is located in the city, where the traffic is very heavy. Various types of subway communications cross our road section. And all these obstacles complicate our work. But, nevertheless, we take every possible means, aimed at the solution of problems as they occur. Of course, they are solved with the participation of Construction Supervision Consultant and South-Kazakhstan Regional Department for Roads.
- Yes, there are problems here, with most of which I am familiar. Mr. Kim, having arrived to this place, you, of course, have started from the detailed and visual familiarization with the emerged unfavorable situation at the site. Having analyzed it, You have come to certain conclusions. Where have You seen deficiencies and shortcomings of Your predecessor?

- To my opinion, there were some problems there. First, he has overrated the opportunities of the Subcontractors. If one can explain in simple phrase, it means that the Project Manager has trusted the scope of works of the experienced old man to a child in this case. That is, the Subcontractors have received that scope of works, which was completely beyond their powers. First, what I have done, is modification and redistributed the workload for each Subcontractor, considering his maintenance base. Overall analysis should have been done for what is available with them, i.e. their opportunities. Now I myself monitor the progress of works, executed by them. It should be mentioned that at last overall process of road works has become stable.
- In addition to the above, what about other reasons? What are you going to undertake for their elimination in future?

- One should mention here the concrete pavement. To start them, all the rest works should be completed in time, where all our energy and opportunities are directed to. However, I am doubt in that local Subcontractors will cope with base course from CSSM. In connection with it we have additionally mobilized road machinery and equipment.

- Out of overall mobilized equipment, what belongs to the Contractor himself, i.e. what is in his disposal?
- Certainly, we have our own machinery and equipment, two concrete plants, asphalt pavers, some rollers, concrete paver, you asked about, twenty completely new dumpers and other required special equipment. The work of one of the Subcontractors "Ak Zhol" has been suspended. To bridge the gap we have placed the order to Almaty for the supply of 30 units of special equipment. Thus, for the road section, allotted for the company "Ak Zhol", we are going ourselves to carry out all the works, using our own machinery and equipment.
- M., Kim, your work obliges you to visit and, as you mentioned above, to monitor the progress of works at the whole site. Traffic is very heavy at your road section and there are too many obstacles for it there. Do you find the number of road signs sufficient enough? That is, I would like to say, has everything been taken for traffic safety for those road sections, where the earthworks, arrangement of culverts and others are carried out?

- The road section is really very complicated. Pedestrians cross the road how and where they want. My responsibilities, together with other ones, are provision of traffic safety, protection of life and health of the community, as well as the road builders themselves. I have already not once instructed my staff regarding traffic safety, safety measures. As for road signs, their number is sufficient enough. In addition, the whole team has been established, which regularly control the availability of the required road signs in proper places. Maybe they have been blown away by strong rush of wind or passing transport. Knowing that observance of safety methods is one of the most important moments in our work, there should not be conversation regarding funds saving for these purposes.
- Do you agree that one but not the least of the main objective achieved, in this case it is successful completion of the construction, is sensible approach to the made claims and requirements of the Engineer's Service regarding poor quality of the executed work. In other words, the availability of mutual understanding. How do matters stand in contact with CSC, maintaining your road section?

- I consider present situation the normal one. Contractor and Engineer's Service always come to one common opinion. I will not hide that there were some problems while making of quality control and design change. And for settlement of the matters of argument we have FIDIC. If there are no solutions there, we discuss problem jointly and make some common decision. At present, Engineer's Service does not have Specialist, who settles matters for design quickly, which delays our works. I have no purpose to slander on the previous engineers. I mean the following. Engineer should settle quickly any matter occurred, connected with the design. At present, with coming of a new engineer, expert in his work, Sharipov Zhaslan, many problems have already been solved. For example, matter regarding pavement design, which for a long time was in suspended condition. Therefore, joint visit around the problem sites was planned for making determined decision for each of them.
- As I have already noticed, works are in progress at a high speed for arrangement of culverts. Is the quantity of these culverts sufficient?

- Yes, the quantity of culverts is sufficient. There no problems regarding this.
- How do matters stand with establishment of proper living everyday conditions? Since your road section is located in the city and not far from the city, it was not required then to build hostels, canteens. But, nevertheless, what has the Contractor done aiming at establishment of all the required conditions for Engineer's Service, machine operators?
- As you know, most of our workers are townspeople. Accommodation for engineers is also in the city. Catering has been organized free of charge in the canteen, which has been opened in the end of August not far from our office. Local staff is satisfied with food, so do I. Costs for catering, compared with the contract amount, are quite small. And I am sure that efficiency from people, working for the project, will be only when I, as the Employer, establish all proper conditions for their work. And only then we all together achieve the desired result.
- One can say You are somewhat in luck's way that you were not required to build accommodation, canteen, bring equipment for them. But you are not in luck's way that you have to build in the city, where the constructors face a lot of problems, connected with heavy traffic of transport, pedestrians, relocation of communications, etc.

- The fact that engineers, workers live in the same place is very convenient for the Project Manager. But for the workers themselves to live in the field conditions is, perhaps, not. Certainly for that small period of my presence in this Project, we have not managed to catch up with backlogs yet. But I am sure, if you visit us next year, we will have something to boast about. Thanks for your visit.
- Thanks for the provided opportunity to have a talk with you.